Are you aware that you can significantly decrease your chance of getting a food-borne sickness by making simple changes in your food preparation practices? Even a simple change of the cutting boards you use can make a big difference and have an impact on the safety of your food.
A cutting board is a must have for any kitchen. It is always needed for food preparation. Most of the ingredients for your meals are prepared using this tool – vegetables, fruits, meat, fish, and many more. Imagine the number of ingredients that get cut there. Now, imagine your cutting board being contaminated because of a reaction between the ingredients or bacteria left there to contaminate other foods.
Use A Plastic Non Porous Cutting Board

There are three types of cutting boards most commonly used, wood, glass and plastic. They provide basically the same use; however, one is preferred because it offers more safety in terms of food cleanliness and is the best for your knives and other utensils.  Nonporous plastic is much easier to clean than wood and will not dull your knives like using a glass cutting board. Wood is naturally porous and can easily harbor bacteria if not cleaned properly.  Glass cutting boards offer the risk of chipping and cracking.  Neither glass or wood cutting boards are generally allowed in commercial kitchens. So why use them at home?
Obviously, the best material for cutting board is plastic or acrylic. They are easy to clean, rigid, and not prone to contamination and breakage.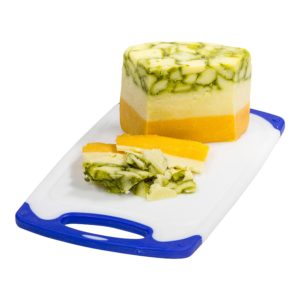 Maintenance For Your Plastic Cutting Boards
To keep your cutting boards clean, you need to avoid cross-contamination and clean them often with hot water and a bleach cleaning product. Consider using separate cutting boards for different types of food; a different cutting board for raw and cooked food. This will prevent any bacteria in one food group from contaminating the others. You can also put a label on the cutting boards to know which one to use. Better yet, buy different colored cutting boards which you can identify with just a glance.
Cutting boards must be washed with hot and soapy water after each use. Rinse with clear water and allow it to dry after. This prevents accumulation of bacteria and germs inside the moist area of the cutting board. They can also be run through a dishwasher – yet another reason they are superior to wooden boards.
Replacing Your Cutting Board
Naturally, even plastic boards wear out over time. They will develop knife marks and grooves over time which can store bacteria and accumulate grime. When you notice this, its time to replace your board
Best Home Products offers a set of 3 convenient sized CUTTING BOARDS. These cutting boards have a double sided cutting surface allowing them to be extremely versatile. A deep juice groove on all 3 boards will retain juices and help to prevent a mess.  Made with FDA-Approved PP (polypropylene) and TPR (thermoplastic elastomers) plastic making them odor resistant. The cutting boards are dishwasher safe and damage resistant, but gentle on cutting utensils.
Take a look at the BHP Cutting Board Set HERE.